The most efficient way to experiment is to use a 3 x 5" glass dish (or a small stainless steel dish) to see how close it comes to an acceptable outcome. This makes the losses smaller if it does not work. We set the dishes in 5 cups of water in the steam table pan. 
For the round dish we use 1 oz of dry ingredients ( which ends up about 2 oz when cooked) and 1/8 tsp starter.
Here is a test made with 1 oz hulled barley and 1 oz cracked Kamut. 

Soybean and Barley Tempeh 
Full size pan:  1.5/1  hulled barley/soybeans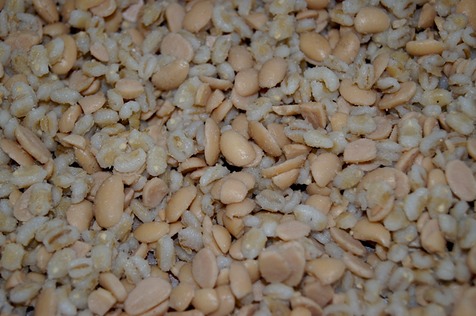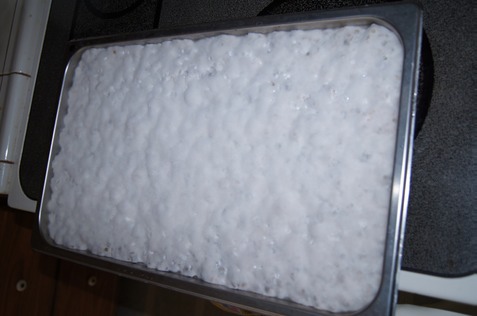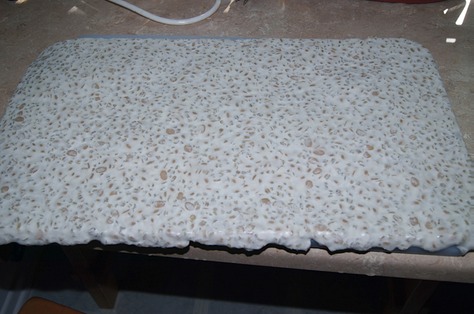 As the somewhat ragged edge shows, because it is a bit sticky before incubation it is harder to get smooth.
100% Barley Tempeh:  Used 16 oz of hulled organic barley, 1136 ml water and pressure cooked for 30 min. (This was not our usual recipe of 26 oz dry ingredients).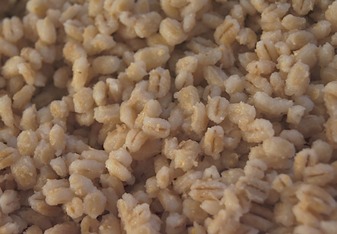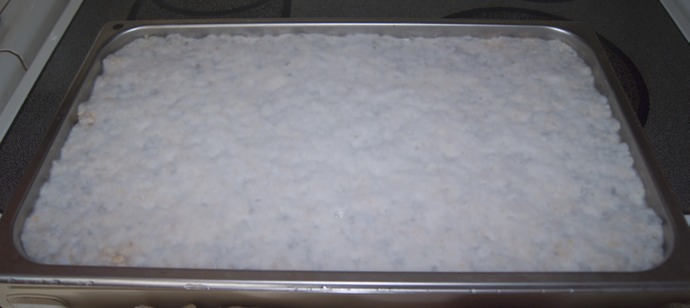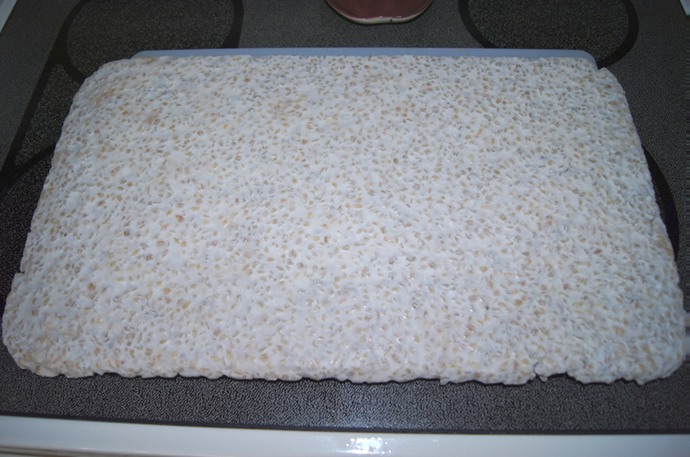 A bit sticky and hard to get tamped down - it ended up fairly fluffy. The final weight was 45 oz. Great flavor. 
In a subsequent test we coated the barley (after the starter had been added) with toasted whole wheat flour  and that enabled it to be tamped down because it was no longer sticky. Not sure how much flour to use yet ( used 3 Tbsp and that worked fine).
……………………………………………..
Love the texture and taste of this tempeh: Black Chana (Chickpea)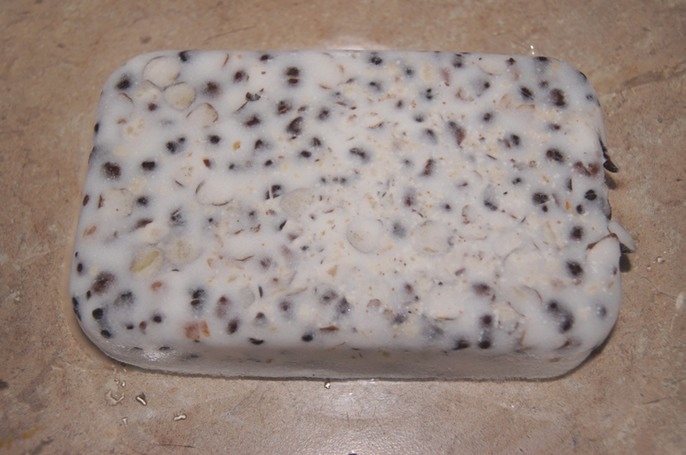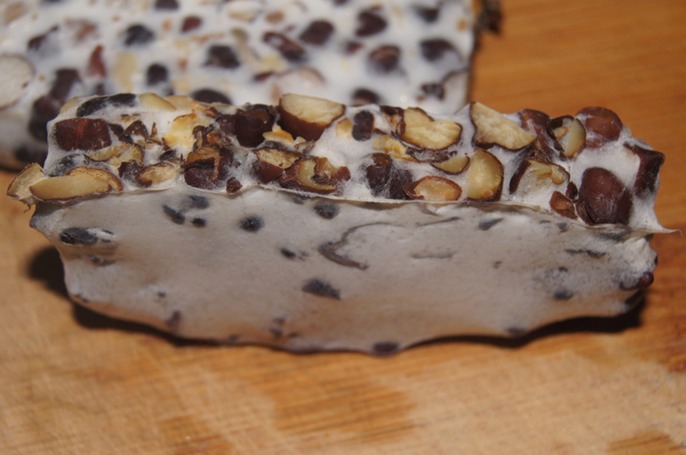 Also tried Black Chana with Red Seda Bean (2:1 ratio)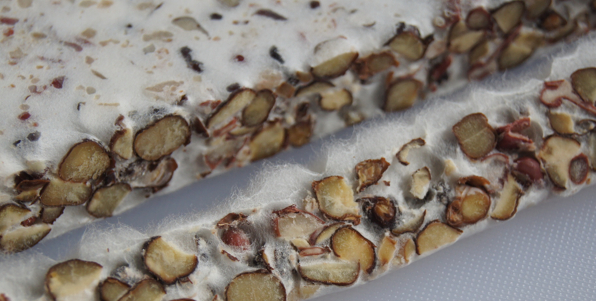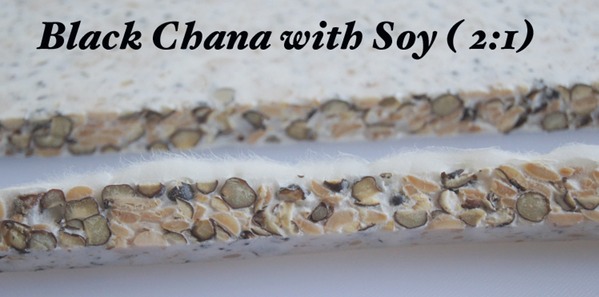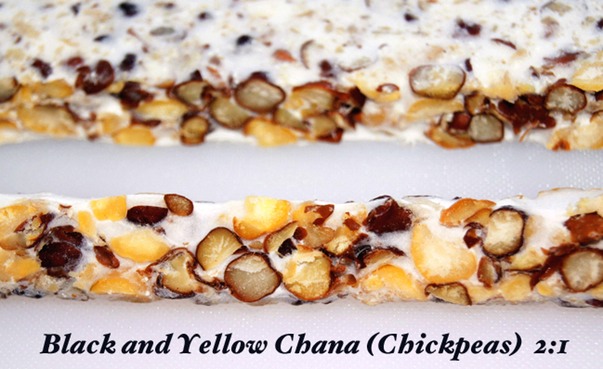 Black Bean Tempeh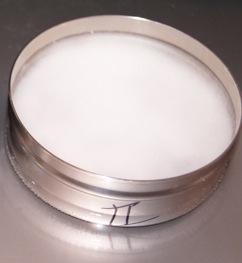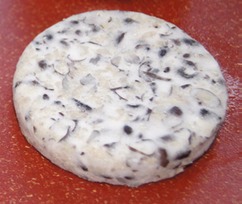 The Black Beans were soaked in room temperature water for 8 hrs, then pressure cooked for 9 min.
Then we dried them off with the hair dryer for three minutes and chopped them into smaller pieces with a rotary slicer.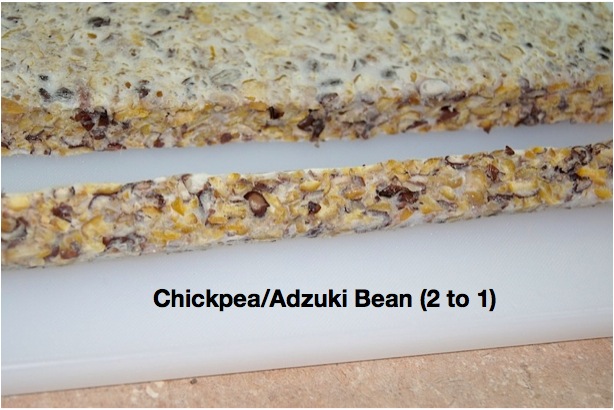 ……..….………………………..……………………………………………………………………………………...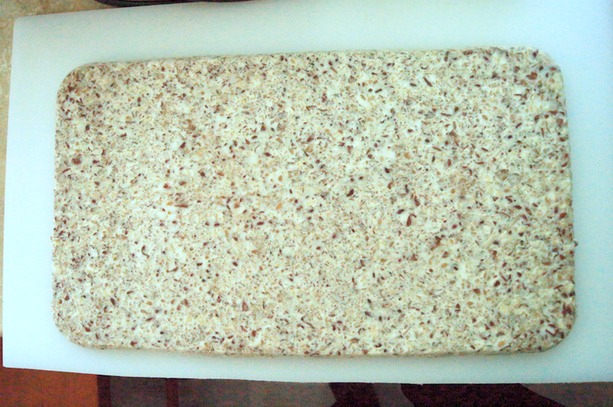 1/3 Red Seda Beans; 1/3 Red Kidney Beans; 1/3 whole Soy Beans with skins;      
          below: sliced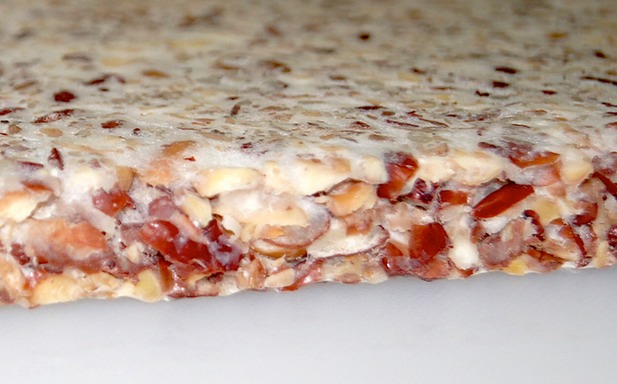 Made a sausage with this tempeh: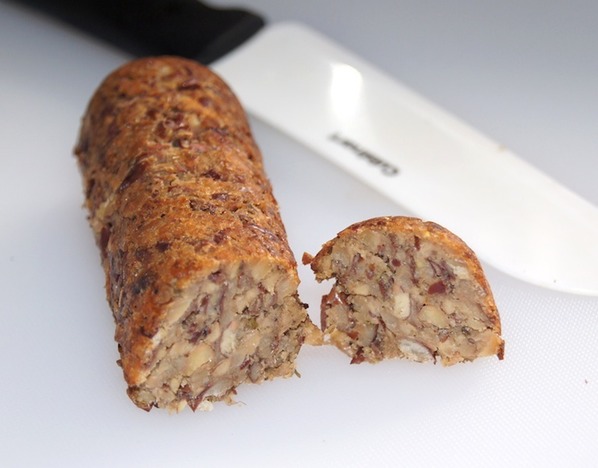 ……………………………………………………………………………………………………………………………………..
This experiment was surprisingly easy : Rolled Oats Tempeh; just put them into boiling water for 3 min., drained and left them in covered pot for 30 min. Then stirred some starter into them and incubated. Tastes a bit too bland for my taste (it is better with some Cranberry Sauce), next time I would add some toasted Sesame Seeds.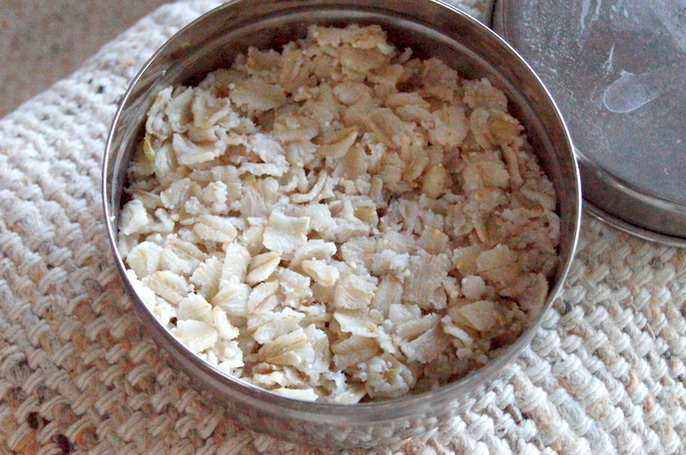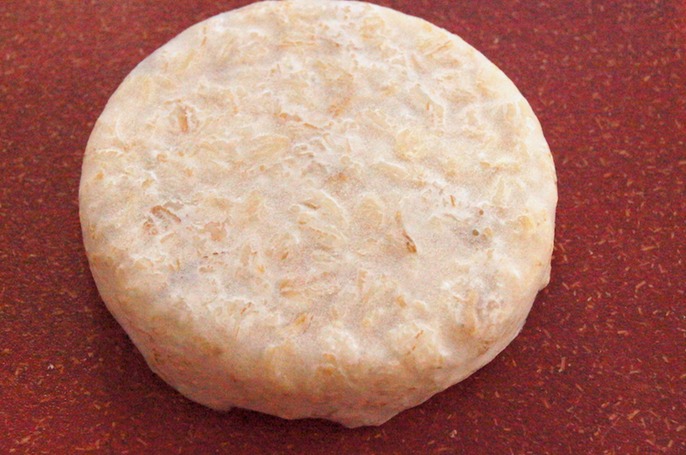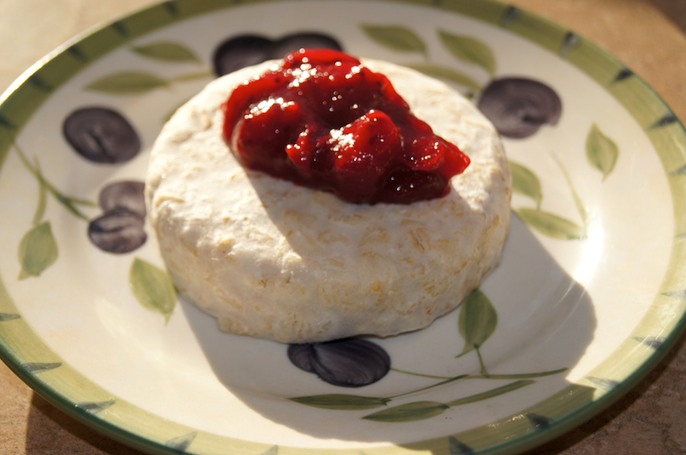 Rye Tempeh - another "easy does it" recipe. The other day I saw a new item in the store: organic rye flakes. I treated them the same as the Rolled Oats - 3 min in boiling water, drain and let rest in covered pot for 30 min. Tastes very pleasant, almost sweet and the pattie on the left on the plate had 1 tsp of raw shelled Hemp Seeds added and that one tasted even better.  The patties on the plate have been pasteurized. The reason they are a bit thinner is because the 1 oz rye flakes turned into 2 3/4 oz after soaking and that seemed a bit much for one container, so I used two.